Walk into your next family gathering with a pumpkin pie made from real and delicious ingredients. The crust is made with a blend of paleo flours, pecans, cashews and Caveman Cinnamon Crunch Grain Free Granola  for a savory and salty flavor. The pumpkin pie filling is made with an alternative and dairy free ingredient for a healthier choice. Grab a fork and your coconut whipped cream for a delicious pumpkin pie!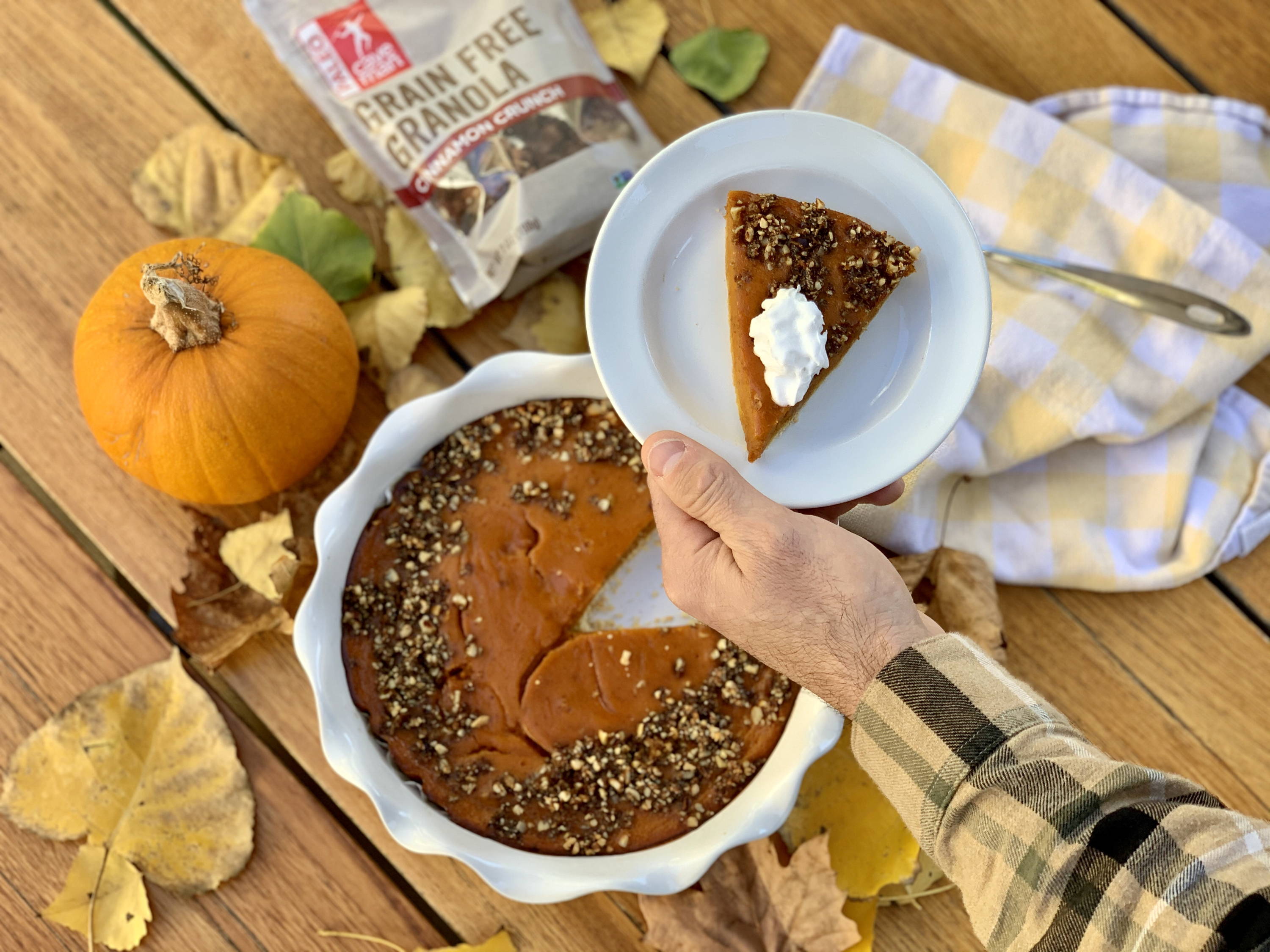 Prep Time: 15 minutes
Total Time: 65 minutes
Crust Ingredients:
1 & 1/2 cups of Bob's Mill Paleo Flour
1/4 cup of roasted & salted sliced pecans
1/cup of lightly salted cashews
2 1/2 tbsp ghee
5 dates (remove pits)
1 egg
1/4 tsp kosher salt
Directions:
Preheat oven to 350F
Place parchment paper lining in a 12-14" pie pan
Combine granola, nuts, dates, 1 tbsp ghee, ingredients in your preferred food processor and set aside
Combine paleo flour, 1 1/2 tbsp ghee, egg, salt in food processor. Add up to 1/2 of the granola date mixture into flour mixture (your preference)
Pour mixture into pie pan and firmly press with a fork or spoon to spread ingredients evenly for form a crust
Place in oven for 8-12 minutes, then remove to cool
Filling Ingredients:
1can of pumpkin puree
1 can of Nature's Good Coconut Sweetened Condensed Milk (or other non-dairy option)
2 eggs
2 tsp of pumpkin spice seasoning (to preference) or make your own with ginger spice, cinnamon, nutmeg
Granola-nut-date mixture from crust
Directions:
Combine ingredients in your food processor and slowly add some of the granola mixture used in the crust to thicken filling. You can also sprinkle leftover granola mix to the top of your pie
Pour on top of the crust and bake for 30 minutes or until thoroughly cooked (pro tip: turn off oven and leave pie in after 30 minutes if it's close but not completely finished cooking )
---
Grab the whole collection of Granola Crunch
---
Alexis Andrade, is a certified 500 Hour Yoga Teacher and jiu-jitsu athlete that believes in eating cleaner foods to maintain a healthy lifestyle. Meal prep, delicious healthy snacks, and making time for yourself are her tips to balancing a busy schedule. Follow her on Instagram @lexislately.
---