5 Grain Free Breakfast Ideas To Wake Up For
As we get our morning grind going we need real food to fuel our start. Instead of traditional breakfast recipes try these creative grain-free breakfast ideas. Pour yourself a cup of coffee or tea and wake up to better mornings with these five recipes.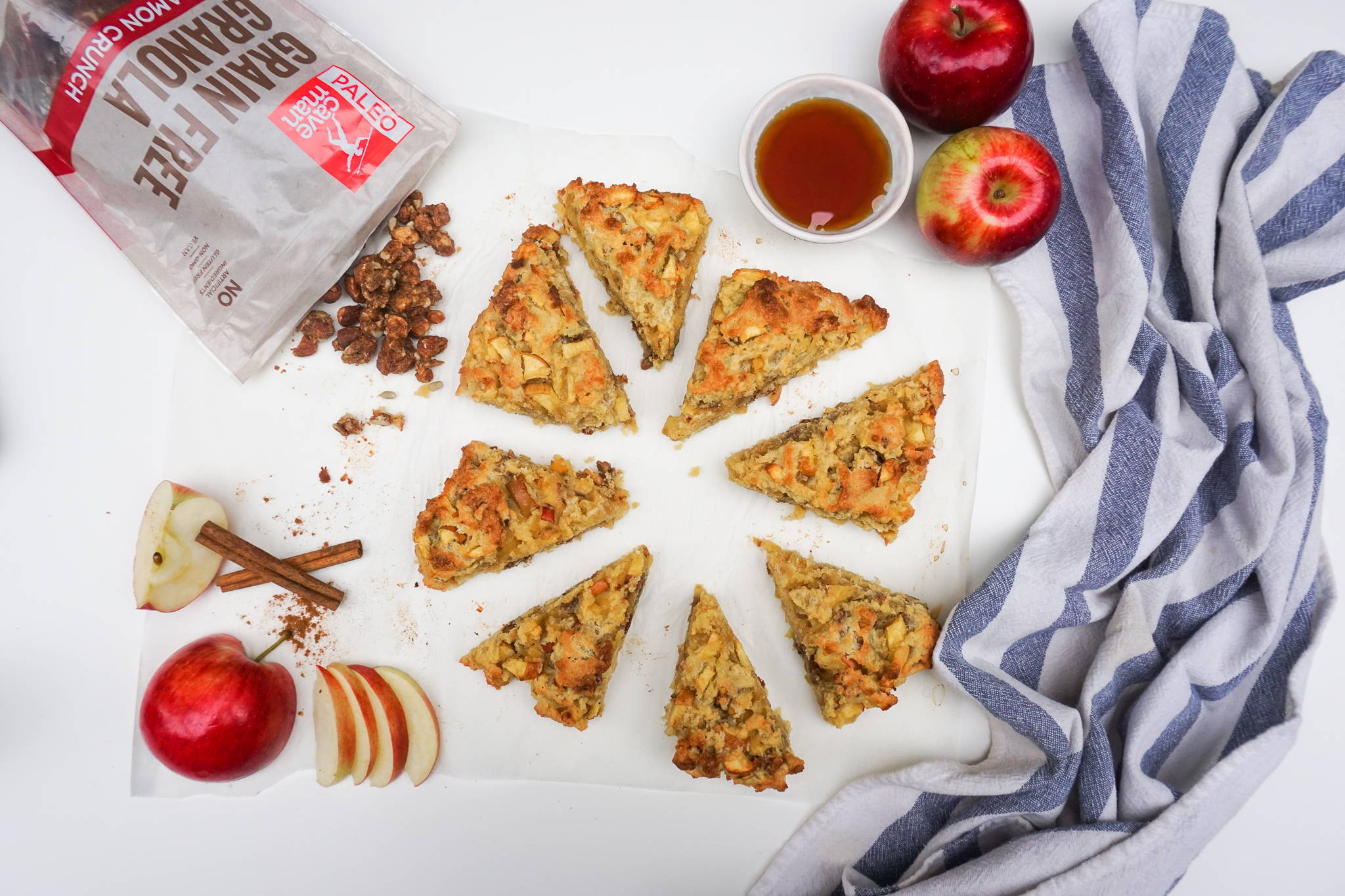 ---
1. Cinnamon Apple Scones
Servings: 8
Prep Time: 5 minutes
Cook Time: 40 minutes
These Cinnamon Apple Scones are loaded with crisp apples and warm cinnamon in every bite. You won't believe these tender, melt-in-your-mouth scones are a gluten-free, grain-free, and refined-sugar free breakfast.
Ingredients
2 cup almond flour

1 medium apple, variety of choice, 2 small apples

2 eggs

¼ cup maple syrup

3 tbsp coconut oil, chilled and solid

2 tsp cinnamon

½ tsp nutmeg
Directions
Preheat oven to 325F.

Prepare mix-ins by dicing apples into small, pea-sized pieces and roughly chopping granola.

Combine almond flour, cinnamon, and nutmeg. Add coconut oil and cut in until coconut oil is dispersed and in small, pea-sized pieces.

Combine eggs and maple syrup. Fold into almond flour dough until well-mixed

Fold in apples and cinnamon crunch until evenly-dispersed.

Pour batter onto a baking sheet lined with parchment paper and form into a square. Cut dough into eight even triangles and bake for 40 minutes.
2. Pizza Frittata
Servings: 3 to 4
Prep Time: 10 minutes
Cook Time: 15 minutes
Pizza for breakfast? There aren't enough emoji hearts to express the love and support we have for this recipe.Try Danielle Walker's creative breakfast recipe that has pizza lovers drooling over this paleo and grain free recipe.
3. Raspberry Chia Pudding Parfaits
Servings:4-5
Prep time: 15 min
Cook time: 15 min
Skip the overnight oats and power up with chia seeds! This recipe is an easy dairy-free and grain-free recipe for those who like to cook in bulk. Another bonus? It's easy to take this pudding with you on-the-go.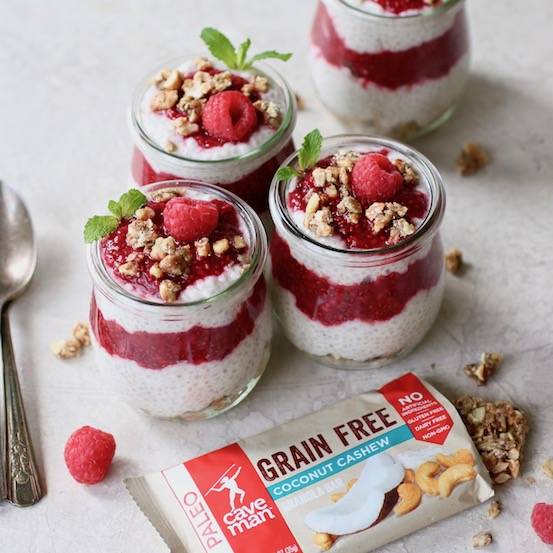 ---
4. Mexican Benedict
Servings: up to 4
Prep Time: 20 minutes
Cook Time: 10 minutes
Eggs Benedict is the classic recipe everyone loves, but have you tried a version with a little heat? Danielle Walker's Whole30 Mexican Benedict dish incorporates foods commonly found in Latin dishes like plantains, avocado, cilantro, and of course chilies. Bring everyone to the table with this comfort food recipe for breakfast!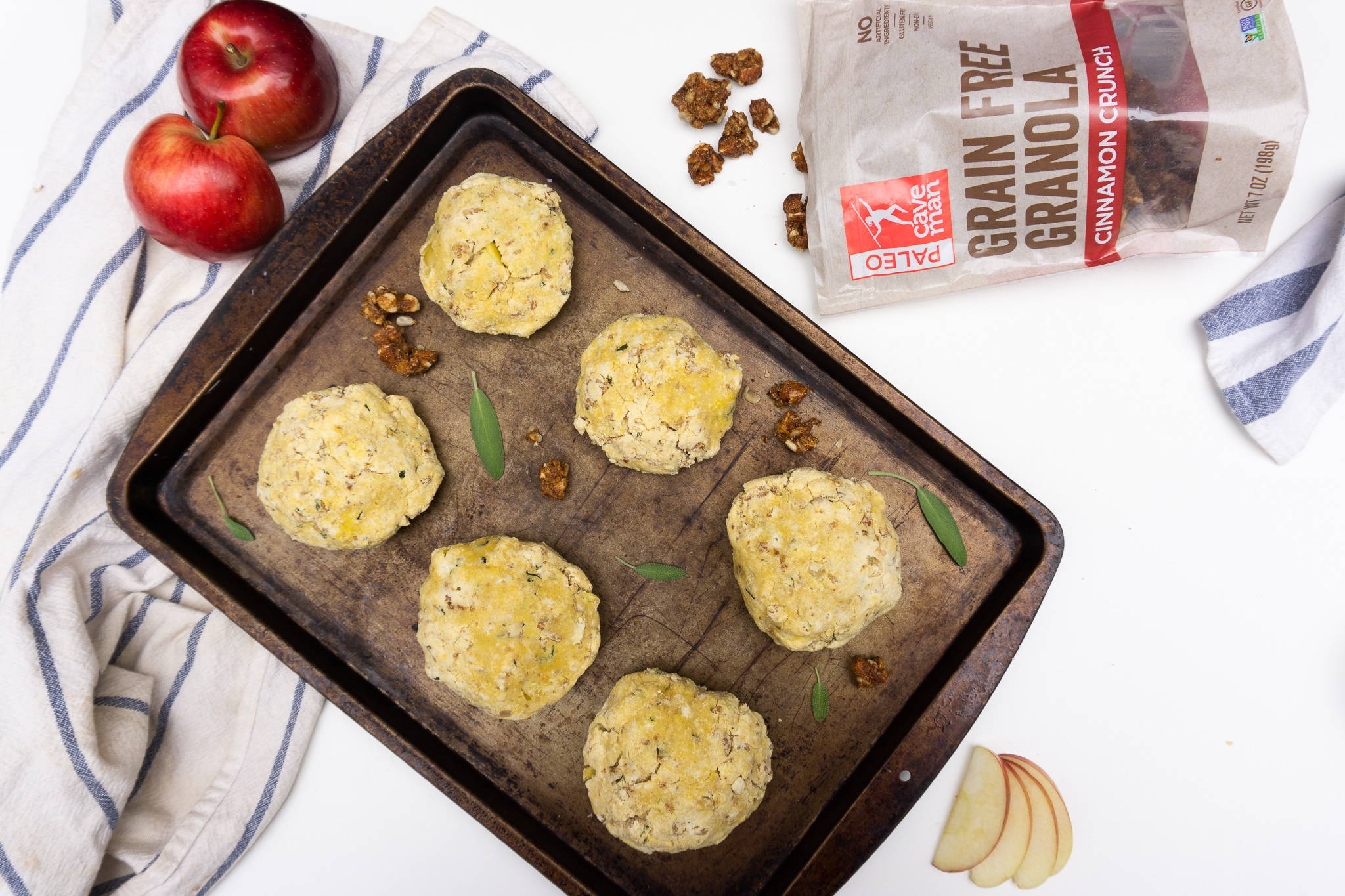 ---
5. Savory Breakfast Biscuits
Servings: 10
Prep time: 15 min
Cook time: 30 min
These savory breakfast biscuits are full of complex layers of flavor. Rich maple syrup, warm cinnamon, earthy sage, and aromatic cinnamon are carried by a moist and tender coconut flour-based biscuit. Prep these savory breakfast biscuits ahead of time and take them on the go for a quick and satisfying breakfast that will keep you full all morning long!
Ingredients
2 cup coconut flour

1 lb ground chicken

3 eggs

1 small apple

1 cup coconut milk

2 tbsp maple syrup

¼ cup onions, diced

½ cup cinnamon crunch grain free granola

2 tbsp coconut oil, chilled

2 tsp sage

1 tsp chives

1 tsp salt
Directions
Preheat oven to 325F

Chop chives, sage, apples, and onions finely

In a medium saucepan, brown ground chicken over medium heat. Once chicken is browned add sage, chives, apples, onions, maple syrup, salt and continue cooking for an additional 4-5 minutes to allow moisture from apples and onions to release

In a large mixing bowl, add coconut flour and coconut oil. Mixing until coconut oil is pea-sized and evenly dispersed

Fold in remaining ingredients and mix until homogeneous.

Form into ten biscuits roughly the size of your palm by pressing dough together between your hands

Place on a baking sheet lined with parchment paper and bake for 30 minutes
---