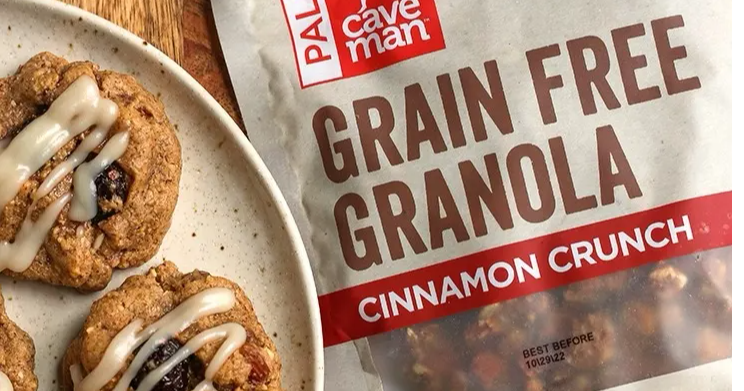 ---
---
---
---
Resealable Bag of Certified Paleo Grain-Free Granola

Certified Keto

Vegan and Non-GMO

12g Healthy Fats, 10g of Carbs, 6g of Sugar

Gluten-Free, Soy-Free, and Dairy-Free
It's time to crush your cinnamon cravings. As soon as you tear open a bag of our Cinnamon Crunch Grain-Free Granola, your taste buds will run wild. We captured a satisfying, craveable blend of sweetness and spice with maple syrup, coconut sugar, and fresh cinnamon. Packed with real almonds and seeds, now you can sink your teeth into this guilt-free granola all day, every day. Caveman granola clusters indulge your primal instincts and are always non-GMO, soy-free, dairy-free, and gluten-free.
---
These Paleo Breakfast Granola Cookies are simple to make and so delicious. (#ad) Made with @cavemanfoods grain free granola that adds such a nice crunch to the thick, soft cookie. A great treat to whip up in the morning or make ahead and have on hand. They are vegan, gluten free, dairy free, egg free and still so tasty! Full recipe is below, I know you'll love them!
---
---
---
Thousands of years ago, man worried about fighting dinosaurs with spears and rocks. Today, the modern-day T-rex threatening mankind is processed fast foods and deep-fried snacks that attack our bodies and lead to heaps of health problems.
It's time to wipe out those artificial sweeteners and GMOs and sink your teeth into something that puts you back on top of the food chain. At Caveman, we believe humans thrive when we fuel our bodies and lives with whole, clean ingredients.
Join the Caveman Crew today to enjoy our clean, delicious, convenient, and nutrition-packed bars and meat snacks.
---
---