Pumpkin spice season is here and that means lots of spice, cozy sweaters, and our favorite fall drinks and foods. This Pumpkin Spice Smoothie recipe is not only delicious, but incorporates fall and fiber-rich ingredients that make it Instagram worthy. We recommend using nut-milk, so it's dairy-free, as well as grain-free and soy-free. Grab your bowl and a blender for a recipe made for pumpkin spice lovers!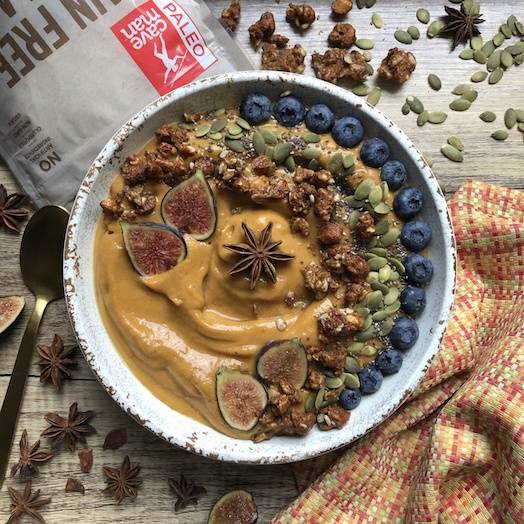 Prep Time: 8 minutes
Total Time: 15 minutes
Ingredients:
1 cup 100% pumpkin purée
1 frozen banana
3/4 frozen cauliflower
1/2 avocado
1 Tbsp coconut cream (unsweetened)
1 tsp maple syrup
1 scoop collagen (or any protein powder of choice)
1 tsp turmeric
1 tsp pumpkin pie spice
1 tsp more cinnamon
1/2 tsp more nutmeg
1 tsp vanilla extract
Directions:
Combine all ingredients in your preferred food processor or blender

Pour smoothie ingredients in a bowl (Pro Tip: if you add too much liquid your smoothie ingredients will have the consistency to drink instead of eating with a spoon.)

Topped with Grain Free Granola Cinnamon Crunch, chia seeds, pumpkin seeds, blueberries, figs, and star anise
Makes 2 smoothie bowl servings.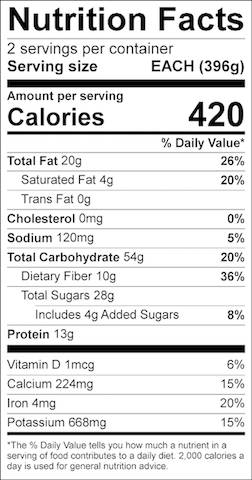 Dana is a certified yoga instructor, food blogger, chocolate lover, and mom. She finds joy when creating in her kitchen and staying centered on her yoga mat. Dana believes that using fresh, simple ingredients can be as magical for your taste buds as they can be for your health. Check out all of her delicious creations on Instagram.
---