Easy Peach Salsa and Al Pastor
Summer is at its peak and so is peach season. Your local farmers market will have plenty of ripe and juicy peaches for this easy salsa recipe. Use your Paleo Peach Salsa as a marinade, dip, or topping on tacos. Peaches are a good source of Vitamin C and contain healthy-promoting antioxidants. The best part of this recipe is it's low in sugar with just the right spiciness and sweetness.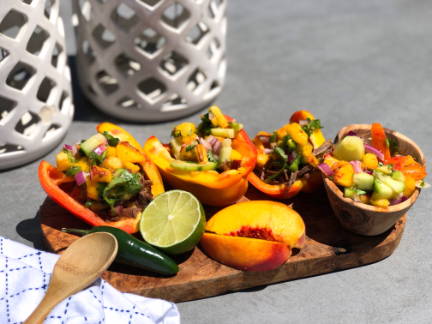 Prep Time: 6 minutes
Total Time: 12 minutes
Ingredients:
3 medium peaches, diced

1 cucumber, peeled and chopped

1/4 red onion, diced

1 tsp olive oil

2 jalapeños, seeded and minced

1/2 cup cilantro, chopped

Juice of 2 limes
Preparation:
Combine peaches, cucumber, red onion, and jalapeños.

Add cilantro and lime juice to taste; combine thoroughly.

Drizzle with olive oil.
Makes 4 cups
Easy Al Pastor - Slow Cooker Recipe
Al pastor is a Spanish version of shawarma, spit-grilled meat spiced and served with pineapple, onion, lime, and any other add-ons. achiote and guajillo are two spices that make al pastor so delicious, but can be hard to find sometimes. An easy substitute is red pepper and chipotle that are common kitchen spices to make this dish full of flavor.
Ingredients:
1 (24-oz) can crushed pineapple

1 bay leaf

2 cups low sodium chicken broth

1 cup water

1 tsp of red pepper flakes

1 tsp of garlic powder

1 tsp of chipotle chili powder

1.5 lbs of Pork Shoulder or Tenderloin for leaner choice

4 medium Red, Yellow or Orange bell peppers
Preparation:
Place all your ingredients in the slow cooker on low for 6 hours or until pork reaches an internal temperature of 165 degrees F.
PRO Tips:
Once cooked, cook meat on the stove top on medium heat. This will give your Al Pastor a little crispy texture on the outside.

In addition to bell peppers, you can use cassava tortillas or lettuce leaves to hold your al pastor and top with peach salsa.
Prep Time : 5 minutes
Total Time: 6 hours and 10 minutes (includes stove top time)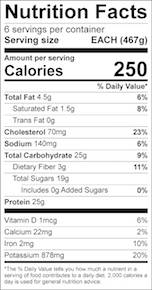 ---