Healthier Alternatives to Halloween Candy
Halloween is just around the corner, there are ghosts, ghouls, and perhaps the scariest of all - processed sugars! Many popular candies contain an unhealthy dose of corn syrup, artificial flavors, and partially hydrogenated oils, which can pack a lot of calories and wreak havoc on your teeth. We created a breakdown of your favorite traditional sugary candy bars and how they stack up nutrition-wise.
Beware: you may be in for a fright.
But don't worry, we've prepared a list of alternative Halloween candy that you can enjoy this year. Swapping out classic candies for our recommended healthy treats can help make a positive change in your diet without giving up your sweet tooth. Whether you're a child or an adult, everyone deserves something sweet on Halloween! Best of all, these healthy Halloween treats are gluten-free, allergy-free*, and kid-approved, making them perfect for any spooky party or just for snacking at home.
Old-Fashioned Chocolate & Nuts
The combination of chocolate and nuts has been a long-time Halloween fan favorite, including popular candies like Snickers, Milky Way, and Hershey's. But what seems like a simple candy bar actually has some not-so-great ingredients hidden inside. The original Snickers bar* contains 24 grams of sugar (over 100% of the daily recommended amount) from added corn syrup. A Milky Way* has a whopping 31 grams of sugar, along with 7 grams of saturated fat (35% of the daily value). Hershey's is now incorporating 'simple ingredients' into their original chocolate bar*, which still totals 24 grams of sugar (from cane sugar). What you really need to keep an eye out for in the nutrition facts is trans fat. Consumption of trans fats (from partially hydrogenated oils) will increase your bad (LDL) cholesterol levels, putting you at a higher risk for heart disease and stroke.  
How do you satisfy your chocolate cravings without going overboard on sugar? Try Caveman's Dark Chocolate Caramel Cashew Nut Bar for natural dairy-free dark chocolate with protein-rich cashews and seeds, or Double Dark Chocolate Protein Bars packed with 10 grams of protein and only 9 grams of sugar. We're always non-GMO verified and free from gluten, dairy, and soy, making Caveman a great option for healthy Halloween candy.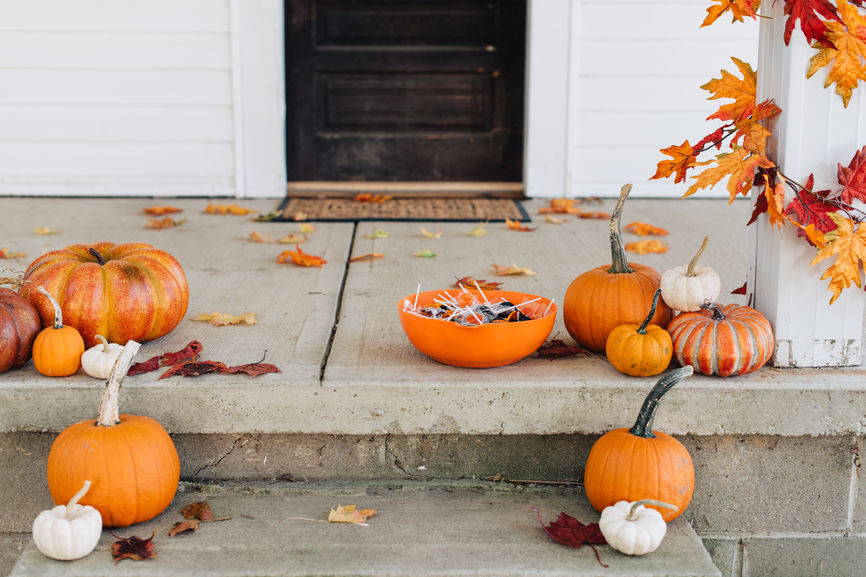 Coco for Coconuts
If it has coconut, it can't be all that bad, right? Although coconut can be a healthy addition to treats, candy bars like Mounds* and Almond Joy* still contain a lot of added sugar. These full-size candy bars contain 21 grams of sugar and 220-230 calories, with a few extra ingredients that you may want to avoid. Besides corn syrup, milk, whey, soy lecithin, and emulsifiers, Almond Joy contains partially hydrogenated vegetable oil (AKA trans fat). Trans fat is not listed on the nutrition facts because the FDA states that if a food has less than 0.5 grams of trans fat it doesn't need to be included on the label. Reminder, any amount of trans fat should be avoided if you can.  
All of these processed ingredients can be avoided with a simple swap to Caveman Almond Coconut Nutrition Bars. We cut out the extra, unhealthy ingredients and created a bar with what you actually want - real coconut and dairy-free chocolate. Our #1 selling bar is complete with real coconut, natural dark chocolate, and sunflower seeds to create your favorite guilt-free snack. We even have a mini size option that is a perfect substitute for handing out chocolate mini candy bars on Halloween.
Make a ( Dairy Free ) Dessert Bar
More and more people are limiting dairy in their diet for a variety of health benefits. Dairy products can cause an inflammatory response in the body (whether you are lactose intolerant or not), and often have a higher calorie content. It may seem like all desserts are made with at least a little milk, but going dairy-free is actually easier than you think. Whether you're trying to avoid dairy or just want a delicious dessert option, you can incorporate Caveman Bars into this year's Halloween treats.
Decorate your dessert table with dairy free dessert options. Indulge in a chocolatey choice like our Dark Chocolate Cherry Smoothie Bowl, which is as decadent as it sounds. These Cheesecake Bars make the perfect healthy Halloween treats to use as a centerpiece or as party favors. Hosting a dairy-free Halloween party has never been easier!
Add an Extra Treat
Halloween doesn't have to be all about sugar - a spooky treat can be anything from toys to decorations. Non-food items can make a great party favor for kids or adults, especially if they match the theme of your party. We recommend Halloween stickers, pens, or even cutely decorated mini pumpkins. If you're hosting children at your Halloween celebration, set up a few arts and crafts like drawing paper masks or making slime.  
While non-food items are a great alternative for keeping your sugar intake low on Halloween, it's okay to indulge in healthy treats too! Replacing processed candy with the items listed above is a great way to enjoy the holiday with your favorite dark chocolate candies and sweets. Keeping Halloween candy allergy-friendly* is also important to consider so all kids (despite different dietary restrictions) can participate in the fun.
Although it can be tempting to get lost in the candy aisle at the grocery store, you're now prepared with a list of Halloween candy ideas that make a healthier alternative while satisfying your sweet tooth. Happy Halloween!
Ready Made Halloween Treats
---
---